Russell Reynolds Associates, a leading global search and leadership advisory firm, and the Toigo Foundation, an organization dedicated to growing the talent pool of diverse finance professionals across all sectors and levels of leadership, today announced the results of their study, Career Crossroads: The Talent Migration from Finance to Tech – Real or Overrated?
A perceived absence of a mission-driven ethos within the finance industry was identified as a tipping point to explore alternative career options. Within focus groups, respondents underscored how continuity between personal values and the mission and culture of the organization where they work is critical.
"A strong 'work your values' philosophy came through loud and clear from the survey participants," said Nancy Sims, president, Toigo Foundation. "Professionals today, especially those in the millennial demographic, are seeking professional opportunities and career paths that align closely with what they value 'after hours' in their personal lives and in their communities. For many, mission-driven culture is one that values inclusion and promotes and celebrates individuality. If that feeling is missing, professionals will seek a work environment that offers it. Many perceive technology firms in that realm."
Career Crossroads also found that the most significant difference between those who indicated they would consider leaving their employer and/or the industry and those who are committed to staying was a desire among leavers to find an employer with greater work/life balance and increased workforce diversity. Of the work/life balance factors, a flexible work schedule was cited as the most important (87% put it in the top three factors), followed by office location (71%) and vacation/sick/paid time off (54%).
According to the Career Crossroads survey of 300 finance professionals, 50% of finance employees surveyed indicated they are likely to leave their job within a year's time frame. It is, however, tempered by a much lower percentage of those who desire or plan to leave the finance industry overall (20%).
"For many years, the finance sector outpaced the tech industry regarding compensation packages. With more equitable compensation packages today, talented executives are looking to culture to help determine where to work," said Heather Hammond, global leader of the Global Banking Practice at Russell Reynolds Associates and Toigo board member. "We have seen employees look for a stronger sense of inclusion as part of their corporate culture, and the perception among many is that the technology industry is outpacing the finance sector regarding a focus on inclusion."
Ideas and Actions to Consider

To counteract potential talent departures, Toigo and Russell Reynolds Associates recommend five key approaches that finance companies can use to reflect on their polices and tactics:
Reframe: Ask Different Questions – Ask early and often what makes individuals want to stay, what factors cement that loyalty and how that engagement can be leveraged.
Working Together – Broaden a rising professional's scope of work and break down hierarchies and silos.
Make "Mission" an Every Day Meal – Make the mission more tangible and tethered to what talent does every day by boldly affirming what the company hopes to achieve.
Put FinTech in Perspective – While many perceive the transition from finance to technology as smooth, the two fields operate on separate plains.
Use Uncertainty To Your Advantage – Combine the perceived staid nature of finance and the unpredictable nature of technology into a mission statement that provides both a provocative and enticing scene for talent – an opportunity to contribute new ideas and have an impact.
Russell Reynolds Associates, a leading global executive search and leadership advisory firm, today announced the findings from its Digital Pulse: 2017 Outlook and Perspectives from the Market. The firm surveyed more than 1,500 senior executives at companies with a digital strategy to understand how digital is transforming talent and leadership needs across organizations. Now in its third year, the survey questions covered setting and executing digital strategy, organizational structure and barriers to success. The results of the study provide clients actionable insights so they can maximize the positive impact of d igital on their own organization.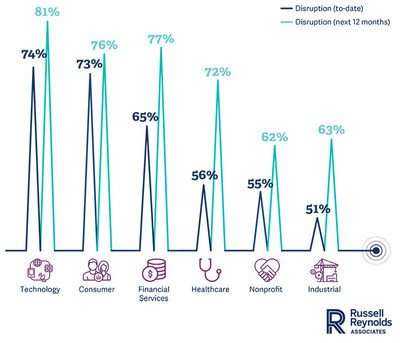 The good news? Leadership, by and large, recognizes the need for digital transformation and is supportive of it. Ninety-one percent of respondents say their CEO makes a visible effort to support the company's digital vision and initiatives. Additionally, 60% of respondents say they have the appropriate leadership setting the digital vision. The bad news? Only 47% feel the right team is in place to effectively execute the strategy. The survey finds that digital transformation often is impeded by talent and structural issues, not an absence of executive support or strategic leadership.
Other findings from the study include:
– Organizations across all industries are expecting continued digital disruption over the next 12 months, with financial services, healthcare and industrial companies poised for the most change.
– More than half (57%) of respondents say their organization has sufficient data to recognize the opportunities digital presents, yet only 44% feel the data are effectively leveraged.
– Half of respondents (50%) say that lack of digital expertise and skills is a significant barrier to digital success, followed closely by organizational inertia (49%) and functional silos (47%).
– Nearly half (45%) of respondents surveyed say their company uses a hybrid structure, with both a central digital team and dispersed digital responsibility across business units. Most respondents see these partnerships with other departments, such as marketing and IT, as a critical success factor in digital transformation.
"Leadership support, while crucial, is not enough on its own to drive digital transformation across an organization," said Tuck Rickards, Co-leader of the global Digital Transformation Practice and member of the CEO/Board Services Practice. "What we've seen through the Digital Pulse survey over the years is an increasing need to focus on recruiting the right digital talent and deploying these experts across an organization's structure. Only then do you see substantive change."
"Many, if not most, companies have reached the conclusion that they must embrace digital. But after several years of investments in innovation centers, catalyst roles and front-end technologies, leaders are grappling with the challenges of how to successfully scale, embed and operationalize transformation," explained Rhys Grossman, Co-leader of the global Digital Transformation Practice and member of the Consumer Practice.
Industry-specific findings from the Digital Pulse survey are available upon request. For more information, visit www.russellreynolds.com.